Zoosk Review: Terrible Dating Site
Link: Zoosk : Terrible Dating Site
Author: Darryl Stewart
Categories: dating site review onl;ine dating site online dating review Reviews
Zoosk Review: Terrible Dating Site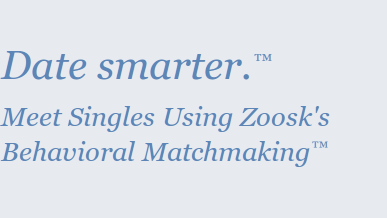 I was curious to try out Zoosk because after the terrible time I had when I tried the last dating site I reviewed, I was really hoping that this site would come through with a positive experience for me. Unfortunately, as you'll read, it was another disappointment. I think it's because it has become a victim of its own success. I've seen this type of thing before when reviewing the larger dating sites out there. Word gets out that a new site has come along (Zoosk came out about six years ago in 2007), and people are naturally interested in seeing what it's all about. If it starts out a quality experience, then more and more word of mouth gets out, and more and more people join. But then there's a tipping point where people start leaving the site because it's not as good as it started out, or because they've met someone and don't need the site anymore, or they've decided they want to try something new (like they did originally with Zoosk). Whatever the reason, people begin leaving the site in droves, and as a result, there are tons of abandoned profiles that are still left up. For this reason, despite Zoosk's claims that it has millions of members, my guess is that it has half of what they purport. The result is that when you use big sites like this, you end up spending a lot of time trying to email and connect with people that just aren't using the site anymore. This means a ton of wasted time and effort, which is exactly what happened to me. But we'll get to that in a minute…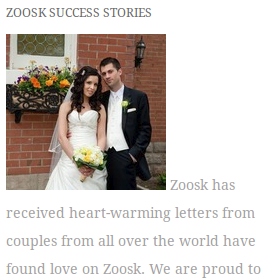 NEED TO KNOW
The initial profile you make at Zoosk is free, and takes about fifteen minutes to set up. It asks all the basic questions but doesn't really get to in depth, which I thought was surprising since this is a site that prides itslef as connecting people on deep, emotional levels. After you're finished your free membership, you can search through the system for local people that you think might be suitable. Their search pages that they set up for me were ok, but none of the women jumped out as super compatible. I was allowed to send one message to a woman, and then the site informed me that I would have to upgrade to a paid membership to continue. Surprise surprise. After I did upgrade to the one month membership, I started emailing women with an introductory message saying hello and asking if they'd be interested in chatting a bit. I sent out about twenty emails that first night and got no responses. I went to bed feeling pretty disappointed, because usually there are some women online when you are and you can get a chat going with them. But, as I mentioned earlier, Zoosk has a crap load of abandoned profiles, meaning that who knows how many of those twenty emails I sent out just went to abandoned inboxes. So, I went to bed feeling pretty discouraged, considering I had just dropped a pretty sizable amount on the month's membership (in fact it is on the high side for cost, compared to comparable sites out there). Here's the way the pricing works at Zoosk:
PRICING
One Month = $29.95
Three Months= $19.98 / Month
Six Months = $12.49 / Month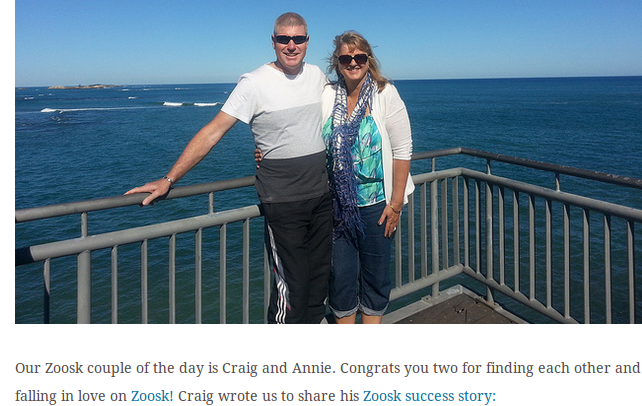 CROWD PLEASERS
Once you have paid your money to upgrade from your free membership, you've got access to everything the site has to offer. But to be honest, besides the mobile app the site has, there isn't too much to shout about at Zoosk. The mobile app is pretty good, but occasionally it would crap out on me for no reason, which was a little frustrating if I was in the middle of an instant chat with a woman! Features the site has are the mobile app and instant messaging, as I've mentioned, the on site email and search pages, and that's about it. Pretty slim pickings for a site that charges one of the highest rates in the online dating business! Still, all you really need is the search and email function I guess, so that's what I used to try and find women for some first dates.
DATE SITE CONS
Well, I suppose I've already laid out what the problems with the site are, but I'll recap again here. Too many abandoned profiles resulting in wasted time and effort. Limited amount of features and functionality on the site despite being on the expensive side of things. The mobile app would kick off at unpredictable times. The free membership is really limited. And the profile is basic so the compatibility aspect of the matchmaking of the system is poor.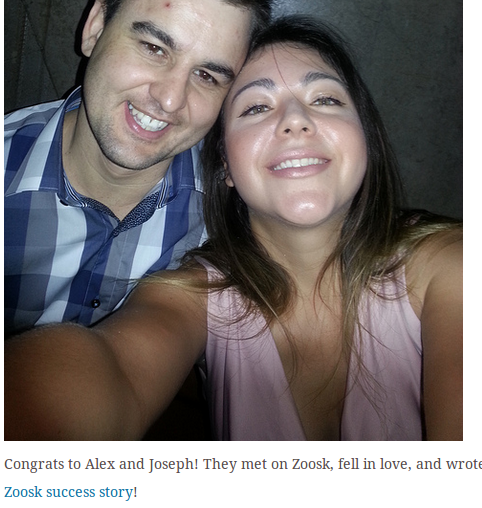 WRAP IT UP
Over the thirty days I tried out Zoosk, I sent out a total of 167 emails to unique women. I received responses from only 75 of them, which is an indication of just how many abandoned profiles there are on the site. Usually on most dating sites, if I send out that many emails, I'll still receive more than 80% replies. Of the 75 women that did reply, I set up first dates with 22 of them. This may seem like a low number, but once I had chatted or emailed with the 75 women for a while, I found that only 22 of them were actually my cup of tea, so to speak. This speaks to the poor quality of the site's matching abilities. I think the site basically matches you with women that live in your area, and leaves the match making at that. Of the 22 dates, I found that only three of the women were the type that I would date again. For all that time, money, and effort, meeting three women that I would date is a terrible result.
Give this site a miss!
Zoosk Review: Terrible Dating Site

,
Author: Darryl Stewart
Originally from Rhode Island, Darryl Stewart moved west to Los Angeles where he attended The University of Southern California. There he obtained his masters degree in Communications, and now he currently works for a major television network.