Date.com Review: SCAM DATING SITE
Link: Date.com : SCAM DATING SITE
Author: Darryl Stewart
Categories: Adult Dating Featured Reviews Scam
DATE.COM:  WEB DATING SCAM!

NEED TO KNOW
After using Date.com, I can safely say this online dating site is a scam.  You need to stay away!  Firstly, the sign up process is annoying; it takes much longer than other sites, bombarding you with questions. In comparison to my earlier review of EroticSearch, which has a simple and quick sign up process.  After the lengthy sign up the site populates a list potential locals in hopes you find someone you're compatible with. However, once you try and talk to another member you immobilized.  You have to pay to send a message.  This dating site tries to lure you in with its lower than average prices.  However, the old saying rings true- you get what you pay for and with Date.com that isn't much.  Like every other dating website, Date.com makes it seem like joining their site will revolutionize the way you get laid, they fail!  Their database is saturated with tons of profile.  I'm confident that most of them are fake, you're better off spending a buck more per month on a dating website site that is actually going to provide with you quality members, features and content.  If you're going to fork over your hard earned money every month to get something essentially you can get for free, sex- you better make sure you get the most out of your coins.  Besides the features of the site, the actual site itself seems old.  Internet age old, its not aesthetically pleasing.  Where as other online dating sites like, EroticSearch have a modern feel and interactive interface, Date.com can't seem to find its way into the new age.  Can you trust a site that doesn't even keep up the general maintenance of it interface?  Where are they spending the money you would be paying?  These are just some of the questions I asked myself, which led me to the conclusion that Date.com should be scam.com.

CROWD PLEASERS
I wish, I could say something pleasing for Date.com.  About the only thing I find pleasing about Date.com is that it carries some of the lowest online dating prices.  However, as stated in the aforementioned, Date.com doesn't spend that money on rebuilding its old interface or adding new features.  Moreover, the site looks saturated with fake profiles.  I dug a little deep into Date.com by reading its Terms and Conditions page.  Pretty much a first for me, this formality check off has become a routine check-yes and go.  Not so fast.  Date.com suggests that will not be held responsible if unauthorized users or hackers steal any member's personal information.  Scary right?  This screams to me, that Date.com is a scam site.  Do yourself a favor and stay away from this faulty site.
DATING SITE CONS
-    A major downside of date.com links back to the idea that I believe it has many fake profiles.  The reasoning for this is that I had sent emails to well over 25 women and I only got 2 replies back.  This is highly unusual for a dating website where people are always actively looking for conversation and sex.  I didn't find any hookups from date.com.  A waste of money- hell yes! In my previous online dating experiences, I've had much more success and much more conversation leading to sex.
-    Another aspect that really threw me for a loop was the free chat option.  It was about the only feature on of the site you didn't need to purchase the            membership to use.  However, after trying to use the chat, it seemed to be  running incorrectly. Once I could actually start conversation, there was no one to talk to.  The room was empty, you could see a couple of people online, but no one was chatting and no one replied to my messages- shocker, right?  Date.com comes across as shady. I'm confident you're better off searching for sex somewhere else.
-    Other additional unpleasant aspects of Date.com are is the featured members section.  Usually this section is reserved for the cream of the crop.  You get     your good looking guys and girls, its a standard.  Not with Date.com, it was hard on the eyes, and thats putting it gently. 
-    Another drawback from Date.com is the length of time it took my profile pictures to be approved.  I waited at least a couple days.  In that time, I seldom had any profile views and it was just about pointless to even be logged into the site.  Take my money, but don't let me use the freedoms of my membership because of bad processing on the backend, Scam!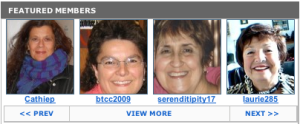 LAME CLAIM
Date.com has a claim stating that profiles with pictures get up tot 15 times more emails and general interest.  I don't think so.  That's a lame claim.  I've sent out messages and put myself out there in other avenues like the chat room and I got nothing.  I didn't even get to fuck anyone from this online dating scam site!  
WRAP IT UP
Clearly I don't recommend Date.com.  From the out dated interface, the lengthy sing-up process, combined with the lengthy photo approval wait, this dating site just doesn't seem right.  You have to pay before using any of the useful features,  They provide a poorly run chat room which hardly anyone visits and its not guaranteed you will find locals to chat with, nor anyone that interest you for that matter.  The whole operation is a scam to take your money.  There are good dating websites, there is no need to waste you time and money on a site that is not putting the work in for its memberships.  Its time to stop the gravy train over at Date.com. 

Date.com Review: SCAM DATING SITE

,
Author: Darryl Stewart
Originally from Rhode Island, Darryl Stewart moved west to Los Angeles where he attended The University of Southern California. There he obtained his masters degree in Communications, and now he currently works for a major television network.