MatchReview: Avoid This Overrated Dating Site!
Link: Match: Avoid This Overrated Dating Site!
Author: Darryl Stewart
Categories: dating site review onl;ine dating site online dating review Reviews
MatchReview: Avoid This Overrated Dating Site!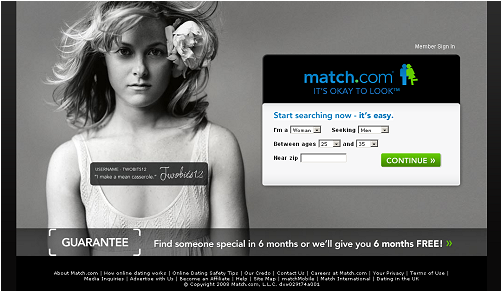 Even though it's one of the biggest dating sites out there, I discover during this Match Review that it isn't half as good as it makes itself out to be. In fact, it is over priced, under populated, lacking in the features you'd expect in a site this popular, and has terrible customer service. I had a much better online dating experience when I reviews PassionSearch, because it didn't have half the problems that Match has. But we'll get into the problems in a bit .First, let's go through my experience using the site from the get-go.
NEED TO KNOW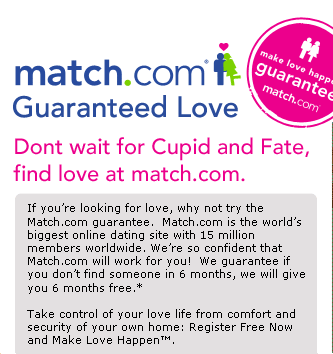 When I first started out on Match's homepage I was astounded at how ugly and simplistic their front page was, given the amount of members they purport to have, and how much monthly income they must generate from those people. Then I realized that it's because Match doesn't care about the members – they just want the dough for the shareholders, and that's it. Once you're locked into your paid membership, you've done what Match wants. They say they're interested in getting you together with compatible people in your area, but give it a try for a month, and you'll see that's a farce.
The free membership you start off with is really pathetic, especially in how little of the rest of the site it lets you see. In fact, once I filled in my free membership, almost immediately I started getting emails from sexy sounding women (all conspicuously without profile pics) that said how awesome I sounded and would I be up for dating. Of course this intrigued me, so I signed up for one of the site's paid memberships (which you need to activate your full email and the rest of the site), but once I started emailing them back, there was no further communication. In fact, their profiles were conspicuously empty. Problem number 1 had reared its ugly head – the site is filled with fake and abandoned profiles, and worse – bots that encourage you to pay for a membership and then disappear.
CROWD PLEASERS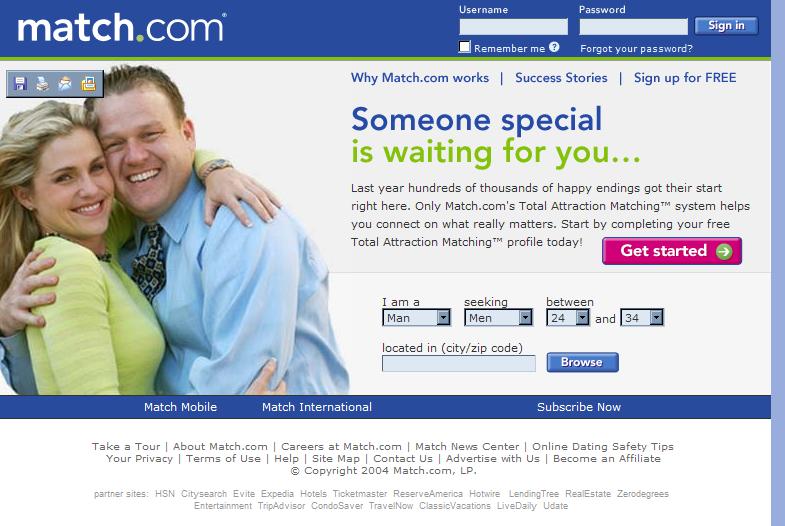 The site, once I shelled out for their monthly membership cost, does have a few features worth mentioning. But in the same breath, I would hasten to point out that I have used comparable dating sites (like the afore mentioned PassionSearch) that have more features and far fewer fake, abandoned, and site-run bot memberships. With a paid membership you can use the site's email and search and instant messaging service (if you can find a legit member, that is). You can use their mobile app, remove annoying members from your search and email feature, see who has looked at your profile, post pictures, send winks, and get text alerts if you've received winks and what not. This might seem impressive when it's all put together like that, but trust me – this site is a loser. They don't have half the features you'd expect for the prices they charge, and the features they do have are all half-assed. Here's the prices they have for the paid memberships:
PRICING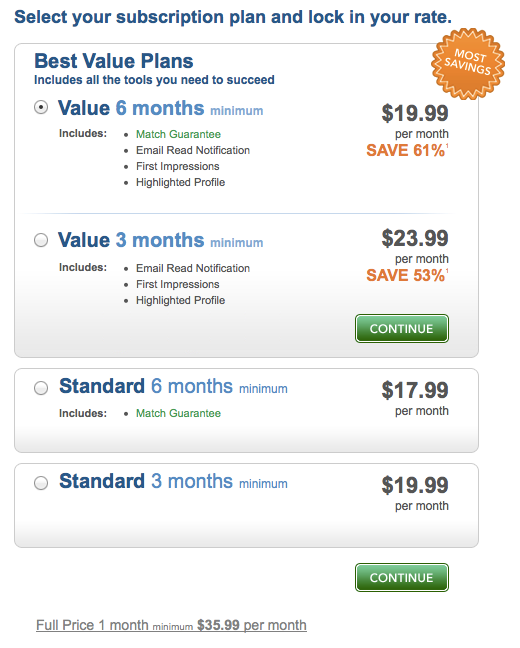 As you can see, the prices are pretty high for a site that talks about their free membership in a loud voice, and then after you've invested the time and effort into making your profile, lets you know that to actually use their site you have to pay.
DATE SITE CONS
God, where to begin. Well, I've already told you about how most of the profiles on the site are absolutely useless. Match doesn't delete memberships that haven't been used in years, so there are tons of abandoned profiles. People use the free memberships to put up fake profiles just to screw with people actually looking for legitimate online dating. The site has automatic bots that lure you into buying a membership, but aren't real people at all. The worst thing about the site happened when my monthly membership should have ended. I noticed that when my credit card statement came back that it had automatically renewed my monthly membership. Trying to resolve this with their customer service was an exercise in futility. Talk about frustrating. First you have to wait for days and days before they finally respond to you. Then they point out that the site says in the fine print buried in the contract that no one reads that it will automatically renew if you don't specifically cancel it. Sorry, but if I pay for the MONTH OPTION, it should end AFTER A MONTH.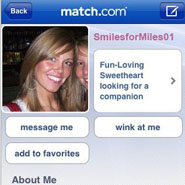 The final problem is that even when you do find an actual woman that really exists on the site, there are so many guys that are looking for dates that you're just one of a hundred that she has to get through. All the legit women I talked to on the site say that their inbox is filled with so many emails from guys grateful to find a real person on the site that it's impossible to get back, let alone date them all. But don't take my word for it – plenty of my fellow disappointed Match users have put together their problems here.
WRAP IT UP
After a month of headaches and wasted effort, I spent an average of about an hour each night on Match. I sent out 124 emails to different women, but only received a paltry 34 back. This just goes to prove how many B.S. profiles there are on the site. Of the 34 that wrote back, I'd say that Match found 15 that were compatible in even a basic way. I set up 7 first dates over the month, and one was a no-show. The six women I did go out with on the first date were all very nice, but none of them were a good match for me, especially considering that the site's name is MATCH! As a return on my time, money and effort, 6 go nowhere first dates is a miserable result. Forget this site, and try something else!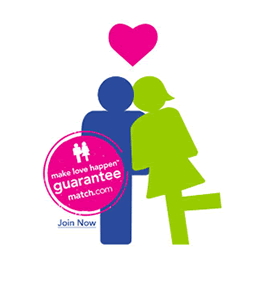 Author: Darryl Stewart
Originally from Rhode Island, Darryl Stewart moved west to Los Angeles where he attended The University of Southern California. There he obtained his masters degree in Communications, and now he currently works for a major television network.