Manplay.com: Legitimate Gay Dating
Link: Manplay.com: Legitimate Gay Dating
Author: Travis White
Categories: Adult Dating Gay Dating Sites Legitimate Dating Sites Reviews

NEED TO KNOW
Manplay.com is a gay dating website.  If you're looking to get off with other hot men, then you need to sign up now for their gold membership, its just $12.50 per month, a steal! I've pounded so many asses from that site; you might end up meeting some of the dudes I fucked, tell them hi from Travis.  In all seriousness, it's a great online dating website.  You'll find a big handsome welcome from the interactive hottie on the homepage.  He will guide you on the sign up process, which is quick and easy, similar to a lot of members I've chatted with.  Once you have a username and password you can get to work.  Inside you will find just about every type of guy.  Manplay.com has young, older, muscle, jocks, hairy, smooth, twinks, daddies, leather, fem and masculine.  Whatever you're thirsting for, you'll find it here. I even saw a couple of big name porn stars on there.  There are just a lot of hot men.  I found a lot of the dudes were into a variety of different things sexually.  Last week I hooked up with this hot muscular guy visiting New York.  He was such a pig!  I fucked him silly, he wanted me to rough him up a little while pounding him, talking dirty, spiting on him, slapping him.  It was hot.  When we were finished, he said he was going back to his hotel to hookup again with another guy he met on Manplay.  Manplay.com has all your regular online dating duties: fill in your body type, interest and upload your pictures/videos.  You can watch videos uploaded by other members, its nice to be able to watch a hot buddy stroking his big dick while you're cruising for your own locally.  Manplay is one of the best gay dating websites I've signed up for because its member are looking for hot sexual encounters.  Cut though the red tape and just get down to business.
CROWD PLEASERS
Manplay.com offers a slew of features.  Keeping inline with all other top ranked dating sites most of these features become active when you buy a membership.  I signed up for the $12:50 per month and I got the current promotion where they added 3 free months to my account. Basically 3 months free of unlimited dick, works for me! You can have access to tons of free porn, view member webcams, watch personal member videos and even upload your own.  You can become a featured member and it will get you tons of messages, which is good because you'll have unlimited email access and instant messaging, What are you waiting for?  Sign up and start getting off and if you see me online, don't be shy—say hey.
-      From basic member to gold member, go the extra step to meet the most guys you possible.  For only $12.50 per month, Manplay.com has one of the best rates and tons of great features to help you maximize your dick intake.
-      You don't have to lose track of what your fuck buddies are up to… you can follow and track them with the Manplay's newsfeed feature.
-      You can search local guys, but also see where guys are in other cities.  This is useful for those members who like to travel; setup a date for your next trip or host a guy who is going to be coming to your area.
PRICING
Manplay.com offers users two ways to become a member.  The Silver Membership or the Gold Membership.  My recommendation and personal choice is the Gold Membership.  You have no limits on anything you can do and there isn't much price difference between packages.  $12.50/month is a perfect deal!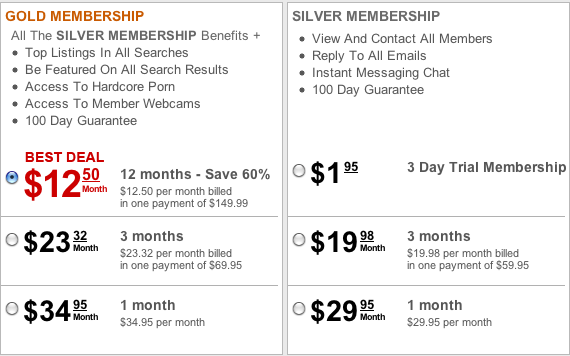 DATING SITE CONS
Unfortunately, not everything can be perfect.  While I couldn't find any huge flaws with Manplay.com there were a couple of things that I would like to change.  Sometimes there is a pop-up ad that appears every couple of clicks on particular links and out of all the detailed search criteria there isn't an option to search by dick size.  That's a must have for any gay dating website.

CONVINCING CLAIM
Manplay.com has a Meet Men Guarantee.  Their claim is that within 100 days, max, of using Manplay.com you will find sex.  It's a convincing claim, considering it took me less than a 1 day to find some action.  When a site has this much confidence in its ability to match people up to get laid, it makes your journey into online dating that much more of a superior experience.

WRAP IT UP
Getting a Manplay membership was one of the best purchases I've made online.  The membership, besides offering up countless opportunities for sex provides its valued members with unlimited features.  Manplay's instant chat makes it easier than ever to connect with local men, their online video library of hardcore porn comes in handy for when you need to beat one off quickly, their compatibility  search to narrow down which dudes are the best for you is awesome.  The list can go on-and-on.  As gay men we know how tough it can be to meet people.  Going to bars or clubs, it's hard to penetrate though the cliques and niches that have developed in the gay world.  However, though using Manplay I was able just to have a good time with like minded guys without going though all the red tape.  It was truly a fulfilling online experience in so many ways.  Do yourself a favor and help the growing Manplay community and sign up, with me today and start meeting the guys you want to be with, without the hassles of bars, gyms and red tape madness.  See you the other side.

Manplay.com: Legitimate Gay Dating

,
Author: TravisWhite
Travis White is 28 years old and grew up in California. He came out 7 years ago while attending Tufts University where he completed an Engineer Degree. He loves surfing, being at the beach, hitting the volleyball around, and other typical California stuff. He's WebDatingScams.com resident gay dating expert.