SexSearch: Legitimate Online Dating Review
Link: SexSearch: Legitimate Online Dating
Author: Darryl Stewart
Categories: Adult Dating Legitimate Dating Sites Reviews

NEED TO KNOW
SexSearch is quickly becoming one of the best online dating websites.  I joined awhile back and the response has been amazing.   SexSearch gets right to point, sex search, you're coming here to search for sex and if you're anything like me, you'll have no trouble finding a way to get laid.  SexSearch is a great interactive dating website.  It has a great interface that looks rich and chic.  Surprisingly memberships are offered at a great price and include a lot more features compared to other online dating sites.  I really love how the site presents itself.  It has an interactive sexy lady who takes you though the sign up process, its not too long, but with her at the helm, I could answer questions all day.  The network has millions of users, so no matter where you login from you'll be able to score some pussy.  The sign up procedure its straight forward and basic asking all the important questions who are you, who do you like, what do you like, how you do like and when do you like doing.  It has great graphics to help you along, naked girls, pictures of sexual positions and different places to do the fucking.  You start off as a basic member and as per any dating site, that's pretty limited.  I signed up for the Gold Membership because it was the best offer.  $12.50 per month, over the year.  This grants me full site access.  Having full site access I can use all the features like advanced search, emailing, web camming, watch porn and so many more.  SexSearches main goal is to find its members sex.  They can help hook you up with singles or couples and help you find exactly what kind of scene you'd like to get into.  They also have a gay section so if your preference is for boy on boy or girl on girl, you can still find whatever it is you're looking for at SexSearch.
CROWD PLEASERS
The features of SexSearch are phenomenal.  There are so many ways to connect with other members through unlimited emails, instant messaging, video uploading, messages boards and chat rooms.  SexSearch also offers fun perks like a giant collection of hardcore porn videos, live web cams and xxx pictures of members.  For the best results in finding your daily fuck buddies SexSearch allows you to keep track of what all of your contacts are doing though activity feeds.  Moreover, you can review who looked at your profile, featured members, become a featured member, check out you most compatible matches and see what members are online in your local area right now.   Getting pussy has never been so easy.
-       Hookup faster and more efficient than ever with SexSearches unlimited emailing, instant messaging and chat room options.
-       Narrow down your search to find exactly the kind of scene and person you're looking for at anytime.  The advanced search option will find what you're looking for, no problem.
-       Warm up with a huge selection of porn.  Gold Members get access to over 10,000 porn videos.
-       Find more matches than ever when you become a featured member and the entire site can see you; this really increases your email activity.
DATING SITE CONS
It was tough to really find anything-wrong with SexSearch although there was one minor thing that was annoying; fortunately it was an easy fix.  I was getting a lot activity from the site and my personal e-mail account would alert me of the message.  Therefore, I had double notifications.  I simply just created a new folder in my e-mail account that allowed all the SexSearch messages to go directly into there without clogging up my inbox further.
PRICING
SexSearch has amazing pricing and several options, you can see from the pricing chart below.  The beat deal is $12.5o/month over the year.

TESTIMONIALS
SexSearch's homepage has a really cool feature that gets you excited about the site.   It shows you testimonials from members.  You're able to learn about experiences other members have had and see what they think about SexSearch.   Get the perspective from single guys and girls or couples.  Reads like they're having a lot of success on SexSearch.  Join them today and get in on all the fun.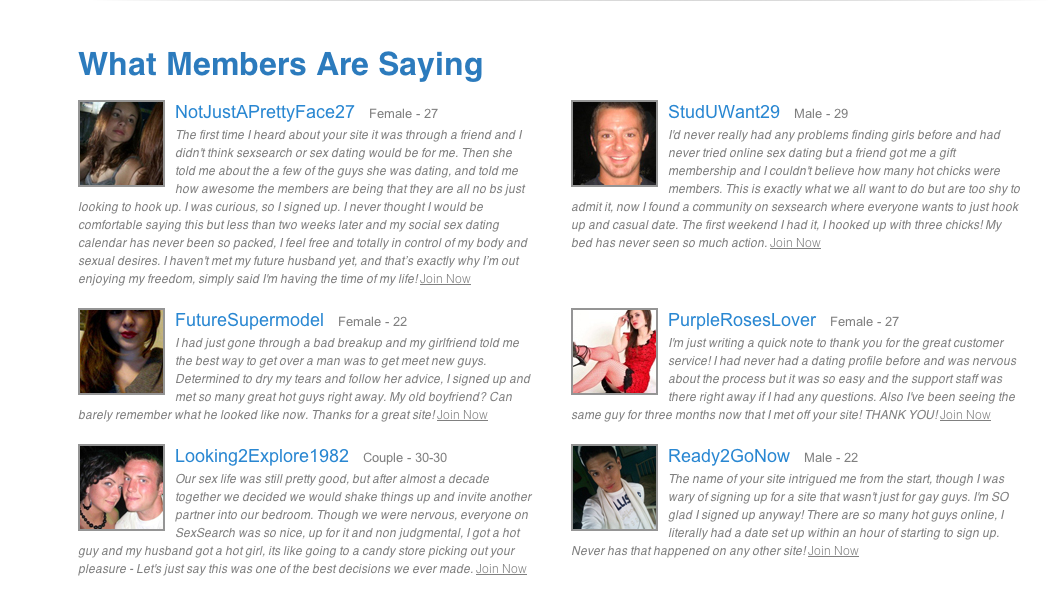 WRAP IT UP
SexSearch is most definitely one of the top online dating sites.  It provides members with extensive features that are user friendly and maximize your best opportunity to get laid.  You get a great deal on membership prices are comparable or better than other online dating sites.  If you're looking for hot fun with hot locals in your area, get on board with SexSearch today.

SexSearch: Legitimate Online Dating Review

,
Author: Darryl Stewart
Originally from Rhode Island, Darryl Stewart moved west to Los Angeles where he attended The University of Southern California. There he obtained his masters degree in Communications, and now he currently works for a major television network.